Do you want to feature on The Hub? Do you want to help support other fellow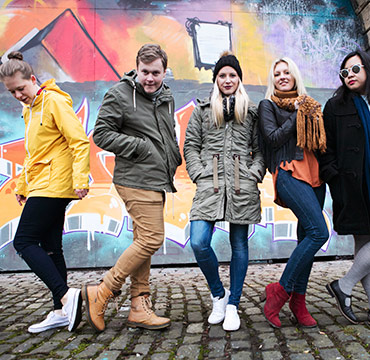 students on their journey to choosing a University? Then why not take part in our competition to become an Honorary Hub-Star!
All you need to do is tell us;
'What do you want from University?'
and share your answer on Twitter, Instagram or Vine using #NUHubStar or Snapchat us at NorthumbriaUni. It's up to you how you choose to capture your answer, whether it's a written blog, photo, video or something else!
We will pick three finalists from all of the entries submitted, and these entries will be published LIVE on The Hub. We will then share the finalists' content on our social media channels and the post that generates the most likes and retweets etc. will WIN! The winner will have the choice of an iPad Mini or Apple Watch Sport as a prize! Good Luck!
WHAT DO I WIN
Each winner will be able to choose either an iPad Mini or Apple Watch Sport.
RULES
Please note, any images containing inappropriate or offensive material will not be accepted into the competition.
If your image contains anyone other than yourself you must have permission to enter the image into the competition on the social platform and the responsibility lies with you.
You must use #NUHubStar in your social post.

TERMS AND CONDITIONS
Only Undergraduate prospective students researching which University to apply for, or Northumbria University Offer Holders are eligible to enter.
Posts valid for entry into our Honorary Hub-Star competition must be posted onto one or more of the specified social media platforms to enter the competition.
Only social posts including the #NUHubStar will be eligible for entry.
Applicants can enter as many times as they like, by posting social media posts across all of the specified social platforms.
The Digital Marketing Team will pick the three eligible finalists and then post their entries on The Hub, allowing other students to vote for their favourite.
Winners will be contacted after the closing date to inform them of their win, choose their final prize of either an iPad Mini or Apple Watch Sport and also confirm their address for prize to be delivered.
Prizes won cannot be altered or exchanged for a cash prize.
Any applicant who posts a social media post that contains any negative or offensive imagery or wording will automatically be removed from the competition and not eligible to win.
Social platforms that applicants are able to use for entry into the competition are Vine, Twitter, Instagram and Snapchat.
Entries do not have to apply to Northumbria University in order to win a prize and the competition is purely to increase social media activity around our new website.
Northumbria University has the final say in who is eligible to enter and who wins. Northumbria University's decision is final.
Competitions are not open to employees or current students.
No purchase necessary.
Posting your uploads to the social media platforms is not proof that we have seen your entry. No responsibility can be accepted for entries that are missed, or which are not seen for any reason when Northumbria University staff are monitoring the social media hashtags to be used in the competition.
The closing date and time is midnight on the last day of June, and Northumbria University reserves the right to amend the competition end date at any time.
If you win, we will notify you by email, or social media, within 72 working hours of the closing date. If you do not respond within 48 hours of being notified, you will forfeit your prize and Northumbria University reserves the right to choose another winner. The judges' decision will be final, and no correspondence will be entered into.
By entering the competition and using #NUHubStar you are giving Northumbria University permission to use your post, including video and image content, and social media username, in any marketing material, social media platform and on our website.
You can find out who has won a particular competition by checking the Northumbria University Hub website on The Honorary HubStar web page where winners will be updated after they have been notified and confirmed.
The prize will not be transferable to another person.
No part of a prize is exchangeable for cash or any other prize.
If an advertised prize is not available, we reserve the right to offer an alternative prize of equal or greater value.
Incorrectly completed entries will be disqualified.
This competition is being run by Northumbria University, Newcastle upon Tyne, NE1 8ST
Please read our Privacy Policy which tells you how we use any personal information we may collect about you by entering a competition.
Northumbria University reserves the right to amend these rules at any time. Northumbria University may also create rules which will apply to a specific competition only. If we do this we will publish the amended competition rules and/or specific competition rules on the relevant competition page.
If the competition or promotion is run on Facebook Twitter, Vine, Instagram, Google+, or other social media platforms, then it is in no way sponsored, endorsed or administered by, or associated with these social media platforms. By participating you hereby release and hold harmless these social media platforms from any and all liability associated with this promotion.
Northumbria University will endeavour to send prizes within a month of the competition end date but cannot guarantee this delivery time.
The competition is governed by English law.