Newcastle has been named the world's number one travel destination for 2018!
Topping Rough Guides list of '18 places that should be on your radar in 2018' Newcastle placed above places such as Malta, Cuba, Chili, Russia and South Africa. Praised for its friendly locals, nightlife, architecture and bustling art and culture scene it's easy to see why our beautiful city topped the list. 2018 will also see Newcastle and neighboring city Gateshead host the Great Exhibition of the North, spanning over two months it will showcase the story of Northern England and how it's artists and innovators helped shape our world.
If you're thinking of studying with us here in Newcastle or just coming for a visit we've got our student Beth's top 10 things to do listed below.
Newcastle is a buzzing city packed with hundreds of things to do, so we have hand-picked ten of the coolest haunts for you to explore. What's more - each place can be enjoyed in under an hour, giving you a little slice of Newcastle life during your visit to the city.
1. The Baltic Centre for Contemporary Art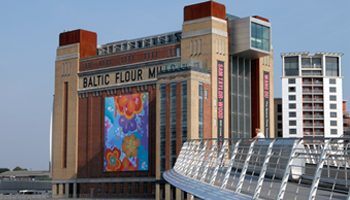 Nestled in a converted flour mill on the banks of the River Tyne, the Baltic Centre for Contemporary Art is one of the coolest galleries in the North East. With previous exhibitions from the likes of Yoko Ono, Damien Hirst and Malcolm McLaren, the selection of talent at the Baltic never disappoints, making it the perfect pit-stop during your visit to Northumbria. You can access the Baltic easily by crossing the Millennium Bridge, providing stunning views of the Tyne and the Quayside and entry to the gallery is free. Whilst you're there, don't forget to head to the Baltic library to swot up on some art history and visit the Baltic Kitchen for a pick me up.
2. Tyneside Cinema
If you're after a break from the cold, this independently-run cinema in Newcastle's city centre is always a good shout. Offering a traditional take on the cinema experience and specialising in independent film screening, the Tyneside Cinema is a quirky retreat perfect for you and the family. Even if indie-flicks aren't really your thing, the cinema screens plenty of Hollywood blockbusters and old classics, so there's usually something for everyone.
3. Catpawcino
For those of you who love nothing more than cuddling up with a furry friend after a stressful day, Newcastle's newest cat cafe is your ideal spot. Opened in September 2015, the cafe is home to five adorable cats - Alfie, Betty, Chocolate, Darwin and Ebby - who were all raised from kittens by the cafe's owner, Sarah. Enjoy a hot drink and a sweet treat alongside your furry companions and feel your stress melt away. Entry is £5.
4. Jesmond Dene
Sometimes the best way to acquaint yourself with a new city is to get outside and explore. Luckily for you, Newcastle is home to a number of gorgeous outdoor spaces - one of them being Jesmond Dene. Situated in the heart of Newcastle's most popular student district, the park features beautiful woodland, a waterfall and even some farm animals! When you're done, you can head to Jesmond's Osborne Road for a bite to eat.
5. Grainger Market
Combining traditional market fayre with delicious food and trinkets, Grainger Market is definitely worth a visit. If you're a lover of authentic Italian pizza, head to Slice where you can pick up a huge piece for less than £2. For fans of seafood, visit Lindsay's To Go and try the scallops or king prawn noodles. Those with a sweet tooth should stop by La Petite Creperie or Pet Lamb Patisserie for some yummy delights. Other places of interest include Pumphreys Coffee for the finest coffee beans, Mmm & Glug for craft ales and authentic cooking ingredients and The Yesterday Society for vintage goodies.
6. Exit Newcastle
This one's for the whole family and is a guaranteed experience! As a team, you will be locked in a series of themed rooms and must follow clues and work together to set release yourself. A perfect opportunity to free your mind from the stresses of university applications and have a blast with your loved ones. Exit Newcastle is situated just by the train station, so you can simply head home when you're done.
7. Quilliam Brothers' Teahouse
Ever fancied trying Battenberg or apple crumble-flavoured tea? If so, then get yourself to Quilliam Brothers, a cosy cafe specialising in loose leaf tea of every kind and flavour. Just a stone's through away from Newcastle's main shopping street, you can head there after a little post-interview retail therapy. Trust us, your mum will love it!
8. Lane 7
Take your pick from bowling, pool, ping pong and even karaoke at Lane 7, a boutique bowling alley situated just outside of Newcastle's city centre. This cool hang-out is ideal for family entertainment and will be somewhere to return to with your housemates when the university year has begun. With delicious food and drink on offer, you can't go wrong.
9 - The Great British Cupcakery
Think of all of your favourite sweet treats: milkshakes, brownies, cookies…the list could go on. Now imagine them piled high and served in a glass jar for you to devour. This may sound like heaven, but it is most definitely a reality at The Great British Cupcakery, a family-run business specialising in gourmet baking. To try one of these amazing concoctions, just ask for the GB Shake. And don't forget to upload a picture to Instagram - your friends back home will be truly jealous!
10 - Discovery Museum
For a little bit of regional history, take a trip to Discovery Museum and explore the North East's significant contribution to the global maritime, scientific and technological industries. You'll be glad you did come September when you're able to dazzle every university tutor and taxi driver you meet with your in-depth local knowledge.