As a final year student and one who has been on placement, who better to talk about this year's Northumbria graduate and placement fair!
If you've had a chance to read any of my previous blogs, you'll see that I'm currently studying business with international management – so a few weeks ago I attended the business fair.
Filled with a whole host of multinational companies and North East businesses, this event was one not to be missed. Some of the companies who attended can be seen below;
PwC
IBM
EY
Aldi
Lidl
Tesco
Mediaworks
END Clothing
Barbour
Civil Service
Frontline
NHS
TK Maxx
And many more…
With a whole host of businesses on display, the fair took place in sport central. One of the biggest exhibition venues at Northumbria University this was the perfect place to host an event of this magnitude. It proved to be a busy day, with plenty of students from all years being giving the opportunity to meet employers, what better way to make a brilliant first impression!
This was the time to ask questions and be bold, speak to future employers asking the right questions. This can help you decide what route you would like to go down after university or even as part of a placement year.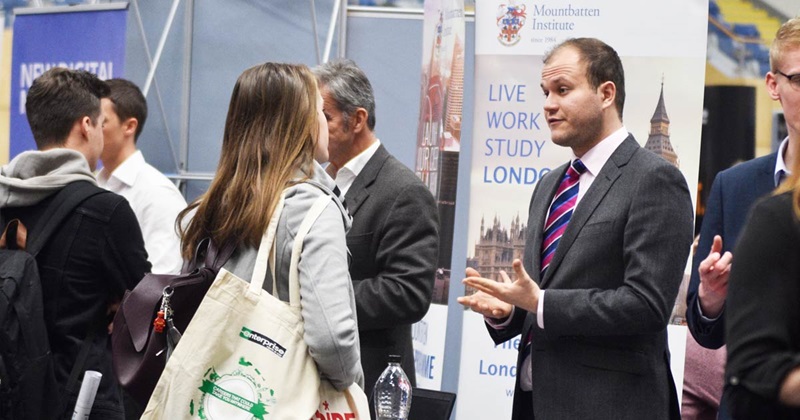 I managed to speak to a number of employees gaining a better insight into the schemes that they offer, it really has opened my eyes to a number of employers I had never heard of before – helping me decide where to invest my time with applications.
Each stall had their own unique draw, you even got some freebies with a variety of stalls giving a complimentary tote bag and highlighter pens.
Events like this are so useful in making the first steps to network with individuals in a professional role. I was lucky enough to chat to Managing Director of a global company who highlighted the benefits of the graduate scheme on offer – I was certain after this conversation I was going to apply (who knows I might be successful!).
The majority of the employees at the graduate fair are actually current placement students or recent graduates. I feel like this makes the conversations much easier as they can relate to your worries and answer any tricky questions as of recently they were in the same position. The job market is extremely competitive, so asking the right questions might just give you that edge when it comes to interviews and assessment centres.
Most people at the careers fair are investigating future employers, I'd recommend the following;
Take notes as you go around each stand
Speak to as many employers as you can to gauge the best idea of what company you'd like to apply for
If you can, approach employers without your friends, you want to be seen as professional and absorb all the information without any distractions
I personally approached the event wearing smart/casual attire – as they say, first impressions are everything!
University is a wonderful journey, you'll make friends for life and have some of the best experiences imaginable. However, there comes to point where you must look to the future and the graduate careers fair is the best place to start – find out the direction you want to take, taking a closer look at some of the best graduate schemes in the world – it really is fantastic.