Only ten minutes by train from Newcastle, Durham is the perfect walking city, being compact and pedestrian friendly.The city is best experienced from the river, with spectacular views of the Cathedral, Castle and the city's ancient bridges.
It's hard to believe you are in a city when walking along Durham's heavily wooded river, which loops around the island or peninsula containing the Castle and Cathedral. It makes for a perfect circular winter walk.
Start at Durham railway station and walk down the hill to North Road, which meets the river at Framwellgate Bridge, here take the steps to the river. Look up and you will see the massive Norman Castle looming above you. Built in the 10th Century to protect Durham from invading Scots, it now forms part of the World Heritage Site along with the Cathedral.
Continue along the river until you come to the first of two medieval water mills. It is from this point that you see the most iconic view of Durham, with the composition of the cathedral and the second of the two water mills at its foot.
Continue to Prebends Bridge, the most beautiful of Durham's bridges, built in the 18th Century, it provides the best views of the river in both directions. Join the river path opposite and continue to a tiny riverside cottage, known as the 'Counts House' which was home to a Polish Dwarf (and Count) in the 18th Century.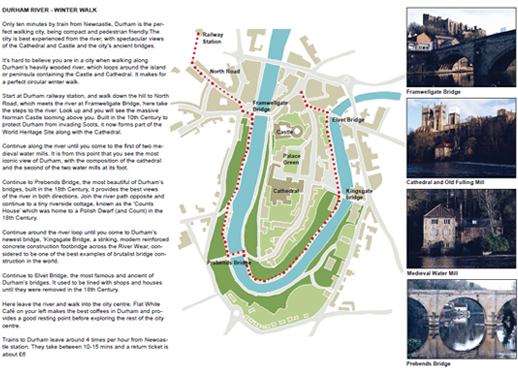 Continue around the river loop until you come to Durham's newest bridge, 'Kingsgate Bridge, a striking, modern reinforced concrete construction considered to be one of the best examples of brutalist bridge construction in the world.
Continue to Elvet Bridge, the most well-known and ancient of Durham's bridges. It used to be lined with shops and houses until they were removed in the 18th Century.
Here leave the river and walk into the city centre. Flat White Café on your left makes the best coffees in Durham and provides a good resting point before exploring the rest of the city centre.
Trains to Durham take between 10-15 mins and a return ticket is about £7.