Every university student looks forward to breaks and a lot of us want to travel around with friends. The only thing stopping us, is our student budget. I'm sure throughout term you've been saving on food and shopping, maybe spending a little too much on nights out here and there, so where are we going to find the money to travel? Ideally, I'd ask you to find a job but I know it's not as easy as it sounds too.
I recently went on a trip with a few friends over winter break. We managed to go to 3 countries, 5 cities on a budget (not including England even though we spent a few days in London as well). We went to Germany (Nuremberg and Munich), Austria (Salzburg and Hallstatt) and The Netherlands (Amsterdam). So here are my tips on travelling on a budget and making the most of it!
1. Save Up
I'll start off with the most obvious one. Save up and allocate some money to your travels. With a job or not, you'll need money to support your travels. Give yourself a rule to save up for example, put £5 or £10 into a jar once of a few times a week and in no time, you'll have money to travel with!
2. Planning Ahead
Flight tickets and such can get really expensive especially if you book your trips too last minute. The university usually give term dates ahead of time, so utilise that and try to plan out when you'd like to travel. This way you'll have plenty of time to liaise with friends and have leeway to make any alterations needed. Trust me, it'll save you a lot if you book flights and trains ahead of time.
3. Choosing Destinations
In my opinion, the best option is to travel spontaneously. My friends and I would usually have a place in mind to start off with but sometimes our budget wouldn't let it happen so we'd go on websites like Sky scanner and key in where we would like to fly from and then in the destination section, we'd put 'Anywhere'. That way, you'd be able to see where is the cheapest to fly to and then plan your trips accordingly based on your budget.
Have Google Earth open on a different tab to see what country and cities are nearby and convenient to visit and in no time, you'll have a mini Euro trip going on!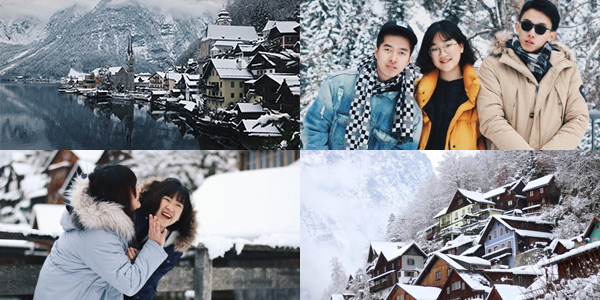 4. Transportation
Try to research ways to get to your destinations! Sometimes taking the train would be cheaper than flight when you travel intercity or country to country. The price differences might be huge and would save you a ton! Once you're in your travel destination, try to walk to places or take busses and trams instead of taxis and Ubers because that might be costly if used too much.
5. Airbnb and Hostels
My friends and I usually go for Airbnb and hostels when we travel. You can actually find really cute and cheap Airbnb's if you look hard enough. I once stayed at an Airbnb in Poland and it was £50 for 4 people! Sometimes you don't have to stay in the city centre because it might be too expensive. Staying on the outskirts is not too bad actually, as long as you stay nearby a metro station, you're all set. Hostels are good too if you know you'll be spending most of your days out and will only be back for slumber. They run really cheap too and you can get pretty decent and cosy hostels. If you're travelling in a large group, sometimes you can book out a whole room in the hostels and have everyone stay together too.
6. Piggy-bank Scheme
Sometimes it gets hard keeping track of money when you're travelling. My friends and I would usually start off our trip with everyone contributing £20-£50 and putting it in a pouch for someone to handle so whenever we want to buy food to share or what not, the money used to pay comes out of that pouch. We get to try more variations of food that way too as we'd only buy one of a type and share amongst each other.
So this is usually how I travel with friends. Exploring a new city or country with friends is a whole new different experience and what better time to do it than when you're at university? I hope these help because they helped me a lot! Especially planning trips with no destination in mind and deciding based on your budget and where else it'll take you. If you're feeling even more adventurous then you could try backpacking next! But that's for a different time!