The prospect of staying in halls for two years in a row might scare a few students – for me it was a lifesaver.

When I first got into Northumbria University, I had only two things I looked for when picking accommodation: an en-suite bathroom & the proximity to campus. The en-suite thing is something most people look for, but being close to the actual University was very important to me. I couldn't think of anything worse than living longer than 10 minutes away. Thankfully Camden Court jumped out to me straight away, because it is literally a 2 minute dash across a bridge away from city campus east & west. So I was sold and was grateful to find out that it was recently renovated and all flats were en-suite rooms. Camden itself is quite an incongruous building – I mean you can't miss it – it's bright blue with big windows.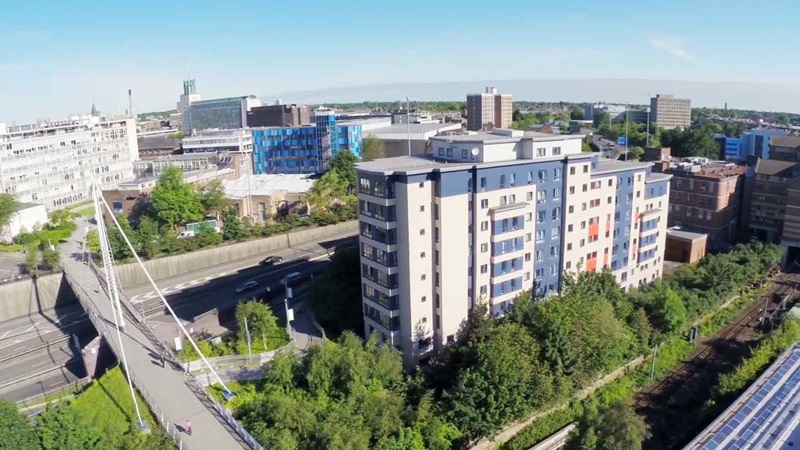 Moving into halls can be a lottery as you aren't necessarily going to be the same kind of person as your flatmates. I got lucky because everyone in my small four person flat got on. The other boy in the flat is a few years older than me, and was studying his masters but we instantly became friends. It shows the greatness of halls, because I consider him one of my closest friends despite him being older than me and in a different stage of his life. However he would be leaving Newcastle at the end of the year so living with him in my second year wasn't going to happen. The pressures of second year accommodation really start to hit in November and quickly I found myself thinking: who am I going to live with next year? It was around February when I decided I would live in halls again.
The thing was, I was doing a foundation year and so technically wasn't a fresher. This meant that living in halls two years in a row wouldn't be totally weird, because I would be a first year like everyone else. As well as this the whole university experience (like many people) was very daunting when I first arrived, and so I would be more out-going & confident second time around. What I've found this year is that it was one of the best decisions of my life. First of all because Camden Court is actually lovely: the rooms are spacious (including a massive window this year), the desk is perfect for working on and the shower is so glorious. As well as this everything runs well in the place because the staff are really helpful. They are clearly caring, and it's always nice when the security man pops in to check on you. Living in halls the second time has also allowed me to meet some great people, and the friends I've signed on a house with for next year. My new flatmates are cool, and our kitchen is a really chilled out place to be in. And consequently living in halls a second year in a row hasn't been tiresome, but has helped me to enjoy the university experience more.
It turns out plenty of people don't just live in halls for their first years. This year in my flat I have two third years that are in the toughest part of their degree. They find that living in halls right next to the university means that they are getting more work done in the crucial part of their studies. It's also a great place for master's students – my flatmate last year was dipping in and out of the library as frequently as he needed at any convenience. Camden has become a home for me in the last two years and I've been really comfortable here. Halls is built for first years and the best way to make friends as you start university, yet this second year has definitely been a better halls experience.
Northumbria guarantees a halls spot for first years but I would also recommend Camden to people in their 2nd, 3rd or even 4th year in Newcastle. It's worked for me and I won't forget some of the fun times I've had in the building.