Nestling in the heart of Gateshead's urban centre is Saltwell Park, one of the borough's hidden gems. Its historical and peaceful grounds have earned many awards such as Green Flag and Britain's Best Park. Some of its facilities include ornamental and woodland gardens, a boating lake, bowling greens, play areas, a maze, educational centre and the stunning Saltwell Towers. It is one of Britain's finest examples of a Victorian Park. The park has seen a massive transformation and has been restored to its Victorian splendour.
There are numerous paths around the park, but this route takes you around the main outer route, then terminating at the cinematic Saltwell Towers which serves good coffee and sandwiches.
The first thing you see when you enter the park is the enormous boating lake with its pretty little Island at the centre. Head towards it and follow the route to one of the park highlights – its wooded ravine, with its pretty little bridges.
Continue across the ravine, where you enter what were originally the gardens to the Gothic fairy-tale mansion of Saltwell Towers. Pass through the gardens and follow the route to then Northern end of the Park which afford great views of Saltwell Towers.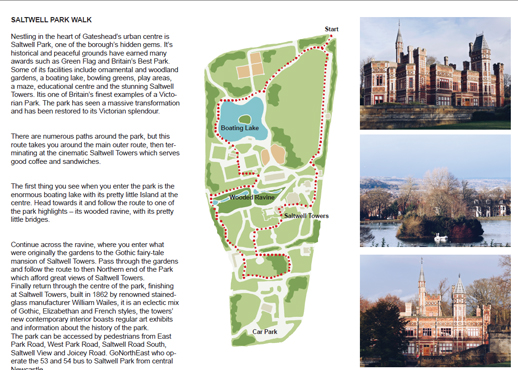 Finally return through the centre of the park, finishing at Saltwell Towers, built in 1862 by renowned stained-glass manufacturer William Wailes, it is an eclectic mix of Gothic, Elizabethan and French styles, the towers' new contemporary interior boasts regular art exhibits and information about the history of the park.
The park can be accessed by pedestrians from East Park Road, West Park Road, Saltwell Road South, Saltwell View and Joicey Road. GoNorthEast who operate the 53 and 54 bus to Saltwell Park from central Newcastle.