The 8th of May marks National Teacher Appreciation Day. Being a former student of Northumbria University, naturally I was surrounded by teachers, tutors, lecturers, academics, whatever you wish to call them.
I have to admit, deciding to do a Masters was scary! I mean terrifying. Just the words Masters degree sounds tough right? It is tough, but never did I think it would create the sense of reward that it left with me, not to mention my entire family thinking I'm a genius. Which is hilarious when I still burn toast, wrestle with bed sheets and leave drinks in the freezer overnight.
There was one tutor who particularly stood tall in times of difficult situations and in times of guidance and motivation, and that was my Digital Marketing tutor Dr Vignesh Yoganathan. The reason he deserves my praise started before I even arrived on campus.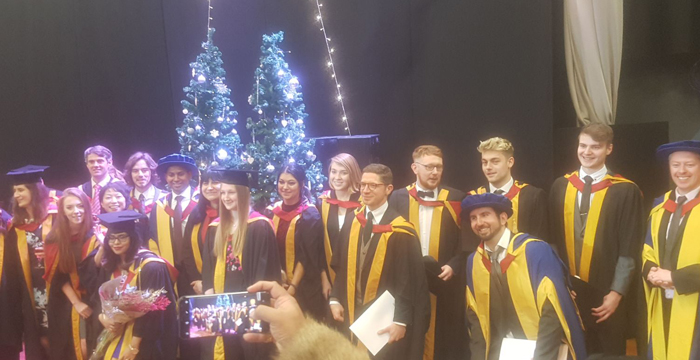 Having needed additional funding, I had to take out a PCDL (Professional Career and Development Loan) and I had to have everything signed and sealed before a certain date, that was all smooth and easy, other than I had to have a signed copy by the programme leader. Not a problem, fax, scanning, email etc. However, I was going to China before my application closed, I was on a very tight deadline. Vignesh was very supportive and helped me sort everything out in time and even told me not to travel to Newcastle as he would sort it for me. This was a huge stress off my shoulders.
Upon arrival Vignesh was the port of call for Digital Marketing students and he led modules and took modules of his specialism, apart from being very knowledgeable he was just like any tutor right? For the most part yes, understanding, helpful etc. However, I was disappointed to learn that I wasn't selected to take part in the Business Clinic and that I had to undertake a dissertation. Doing a dissertation wasn't a turn off, it was just the fact I had done one before. At first it was disappointing, but then I ended up getting a full-time job in marketing and the dissertation option was more feasible for me as a full-time employee. This didn't address the fact that I hadn't planned on doing a dissertation, however, after meeting with Vignesh and discussing my passions, interests of research, I had a question I was pumped for, it was researching why people on digital platforms (mainly Twitch TV) donate money to streamers and content creators. I was ready, I was excited and I felt at ease with the research method and topic at hand.
Vignesh personally took me under his wing and was my supervisor. His support, knowledge and passion for my research topic was unlike anything I've ever had on my undergraduate programme in the North West, in fact y undergraduate dissertation made me anxious as I lacked the support I needed and I had 3 different supervisors. Luckily this time I had one supervisor who was committed to my research and fully bought in to what I aimed to achieve.
I met with Vignesh frequently and I was also working full-time but he accommodated that where ever possible. I ended up getting a 75% on my dissertation and we are now working on getting a large part of the dissertation published as co-authors. This is something I never dreamed would happen and I'm now crossing my fingers for the paper to be published!