It's that time of year again, a time to carve pumpkins, stock up on candy and be prepared for a night full of terrors! Halloween never disappoints, with some of the most creative costumes always being the main topics of conversation. Each year comes the expectation of something new. Last years halloween was populated mostly by Jokers and Harley Quinns thanks to that one terrible movie. In 2018, you can expect there to be many new additions that will no doubt inspire halloween costumes for many years to come. If you find that you are struggling for ideas, then allow me to offer you some food for thought.
Pennywise
Last years IT movie re-ignited clown-phobias across the globe in all the best ways. Pennywise is sure to be this halloweens go-too costume given just how, well, scary it is. When the first images of the demon-clown were released, there was an instant reaction, one that is still felt today. Show anyone an image of the clown and you are bound to get a response. There are many YouTube tutorials out there if you are struggling with putting it all together, some go into great detail in how to pull off the elongated skull and rabbit teeth.
Theresa May
There's nothing more frightening than the prime ministers handling of Brexit, and her dance moves have been known to petrify many. If you fancy being witty this halloween, then why not go a little meta with it; fear comes in many forms, and there is nothing more frightening than our current political situation. Simply grab yourself a grey wig and Marks and Spencers suit, and away you go, you'll be scaring the working class in an instant!
Monstars
Space Jam is a cult classic, and is one of my favourite movies and the Monstars in the movie are one of the main reasons for me coming back for another slam. When the aliens obtain the talent of the NBA players from the basketball, they become some of the most intimidating antagonists in any movie. Pulling off this look can be incredibly simple, sites like Amazon sell the actual Monstars jerseys, you'll also have the benefit of having a very comfortable costume! If you are looking for a cheaper option, then maybe buy a plain jersey and customise your own! 90s kids will get it, trust me.
A Baby Shark
Yeah, that one costume off that annoying/addicting song that's quite popular in 2018. Ironic costumes that reference memes or pop culture will always see in bringing a smile to peoples faces. Find yourself a shark onesie and grab yourself a baby bonnet and bottle and you have yourself a baby shark du doo du…
Purger
The movie where all crimes are legal for 24 hours has led to some very creative costume designs over the past couple of years. With this costume there is an emphasis on neon colours and blood-stained suits/dresses; a perfect symphony of class and destruction. The benefits of this costume allow you to simply find any mask you want, run some glow sticks through it, and the end result will be sophisticated slaughter.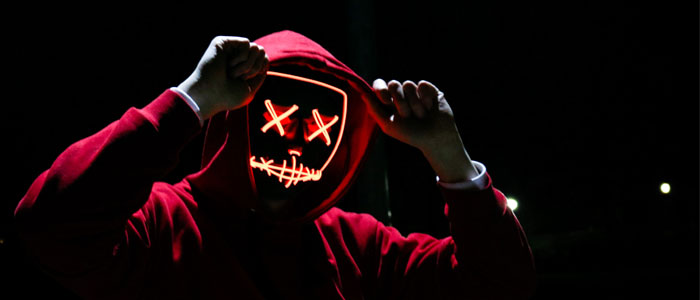 Post Malone
Before his face tatts, the Post Malone costume was quite difficult to pull off, whereas now all you need is a sharpie and you too can become White Iverson himself. Clothing-wise, finding a white shirt and white trousers should give you the full look. If you are wanting your costume to not fall apart, only making it better now in the process, then why not braid your hair like circa 2015 Posty for maximum effect.
Lukaku's First Touch
Any Man United fans out there? Good, this one's for you. Your top striker has had a reputation in the past of having the frame of a fridge, but his first touch leaves a lot to be desired, some would even go as far as to say that his first touch is deadly for all the wrong reasons, hence why I've put it on this list. I would advise finding a shoe costume of some kind; a costume that is bound to bring the humour!
A Haunted Banana
For the last minute costumers out there. Now as a haunted banana you have the pleasure of creating your own backstory, one that could be equally as scary as some of the other costumes out there. For example, this banana could be one that was dropped out of a lunchbox, left to brown-over atop of an ancient burial ground, thus giving it sentience and the ability to walk. The possibilities are endless here!