Tom from our International Development team would like to share with you five places that all international students should visit while studying at Northumbria. A Northumbria graduate, Tom spent six months of his studies on an Erasmus programme at the University of Navarra in Spain, and so is aware of some of the difficulties faced by international students, particularly around discovering places that don't often feature in the traditional tourist guides…
1. Grainger Market
Only ten minutes walk from Northumbria's city campus, this hidden gem has everything a student needs. In the 1830s it was the largest indoor market in Europe, and it is now home to over 100 businesses, ranging from butcher's shops to bars. Students at Northumbria use it mostly for its amazing range of local food producers, many of which have student discounts on their fresh seasonal produce. As well as selling fresh ingredients, the Grainger Market has a flourishing street-food scene, with places such as the French Oven, an award winning bakery, selling Newcastle delicacies all day. It is a place well worth exploring while studying at Northumbria. I recommend Lindsay's To Go seafood bar, the freshest and tastiest seafood in Newcastle, well worth finding.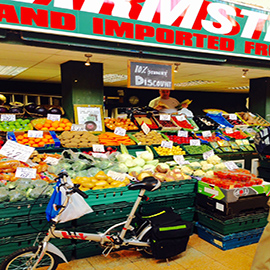 2. Jesmond Dene
Jesmond is a very student-friendly area, with many Northumbria students choosing to live there while studying. It is only a 20-minute walk from the City Campus, and there are excellent public transport links available. It is known for its variety of bars and coffee shops, but alongside these sits Jesmond Dene. This public park is a great place to relax and be at one with nature. It is extremely picturesque, with the iconic Armstrong Bridge looking over it (a great place to go to see the full park from a height). The Dene is also home to a free zoo known as Pets Corner, as well as a coffee shop and a high quality restaurant called Jesmond Dene House. This is the ultimate place to relax with friends. I recommend finding the waterfall that is hidden deep in the park.
3. Tynemouth
Next up is the beautiful coastal town of Tynemouth. To get here you will need to drive or use public transport, as it is outside of the city centre and not in walking distance. However it is only around a 30 minute Metro ride from the station nearest to Northumbria's city campus (Haymarket). The Tyne & Wear Metro is a system you will find easy to use, with staff on hand to help you if needed. Tynemouth is my favourite part of the coast, as it has great beaches but also a thriving area of vintage clothes shops, bars and independent coffee shops. On a Sunday, Tynemouth Metro Station hosts a huge market with local food sellers and antique dealers selling unique items at a fair price. It is an ideal place to spend a morning or afternoon on a weekend.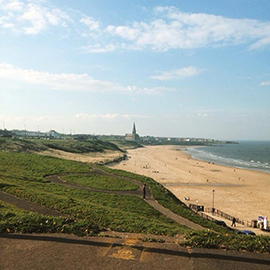 4. Tyneside Cinema
To anyone looking to go and see an independent movie while in Newcastle, I would highly recommend the Tyneside Cinema. Only five minutes from campus, this independent cinema shows a host of international films along with latest releases. The cinema also has a cafe/bar which holds many events including language classes and a classic film club. It offers student discounts, as well as other deals.
5. Free Trade Inn
For those of you who are looking for a classic traditional English pub, The Free Trade Inn is my pick of the bunch. Situated very slightly outside the city centre in the newly refurbished, trendy Ouseburn Valley, this bar has a very traditional pub decor, serving many local ales for anyone wanting the full Newcastle experience. However in my view, the best feature of the bar is the breath-taking view from its beer garden, taking in the full Newcastle Quayside, including the famous Tyne Bridge, the Millenium footbridge and The Baltic art gallery.