Newcastle is known for many wonderful things; its bridges, wonderful coastlines and exquisite nightlife. But it could be said that an unsung hero of this wonderful city is its metro system. Opened in 1980, this mode of public transport is still the largest metro system in the UK. It really is something that can make your life easier when studying at Northumbria. For that reason, I would like to share with you my five useful things to know about the metro.
By Tom (International Development Team)
1. It Can Get You to the Coast
Many of the great things to do around Newcastle can be accessed in and around the city centre. With Northumbria and most of the student accommodation very close to the centre, most journeys can be made on foot. However, one part of Newcastle that is too far to walk to is the beautiful Newcastle coast. This is where you can find Newcastle's lovely beaches, as well as bars and coffee shops. The best public transport to take to get to the coast is the Metro, which features direct routes to many of the major beaches and is cheap to use. Trains to the coast are very regular and are signposted clearly on information boards. Route maps are available on all Metro trains, which you can use to see where you are going. The best beaches available to get to by Metro are Whitley Bay, Cullercoats, Tynemouth and South Shields.
2. It is Easy to Use
It really is! It may seem daunting to learn a public transport system, but it is something well worth mastering while studying at Northumbria. There are dedicated staff on hand to help advise you on which ticket you need to purchase. Different areas require different tickets, some slightly more expensive than others.
You can purchase an 'All-day' ticket which is great when you need to use the Metro to go somewhere and also return, or you need to use the Metro several times in the same day. The nearest Metro station to the city campus is Haymarket. There are other stations in the city centre such as Monument and Central Station so you should always be near a Metro when on campus or around the city centre. If studying at our Coach Lane Campus the nearest metro station is Four Lane Ends, around a ten minute walk from the campus. You can also buy a Pop Card, a pass which you can use on all journeys and top up with cash when necessary. You simply swipe your card in and out when starting and completing a metro journey.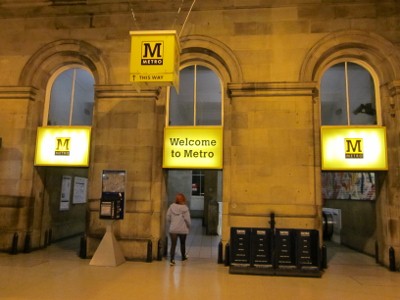 3. It is Open Early and Closes Late
The times can change depending on the day you are traveling, and which line the train is travelling on, but generally the service runs from 6:00 am until around midnight. Metros normally run every ten minutes, although on Sundays the service is less frequent, so there may be longer waits for trains.
4. It Goes to the Airport
A really great feature of the Metro system for Northumbria international students is that it travels to the airport. You may want to use our Meet and Greet service when you arrive for the first time in Newcastle. However, once you are used to the Metro you may find this the best and cheapest way to travel when returning home, or going on any longer trips while studying in Newcastle.
5. There's an App
The Metro is a brilliant public transport system, but there can sometimes be delays, or work being done on the tracks. A great new feature is the Metro app, which can be downloaded onto your phone or tablet. This provides live updates on all the Metro lines, providing information about when any planned work will be taking place, or if there are any current delays on the system. The Metro System is also very active on social media (Facebook and Twitter), providing live information about how the service is running on a daily basis. The Metro website also has a service status which has live updates.