Student Friendly Restaurants in Newcastle
by Dilini Perera
As we know, students are supposed to live on Pot Noodles and baked potatoes. However, that doesn't mean that we don't deserve a decent meal once in a while. If you're searching for a great breakfast, lunch, dinner (or even just dessert) for an affordable price in a restaurant, don't worry - we've done some research and have found four student friendly restaurants in the Newcastle City Centre.
Breakfast – Five Swans (Wetherspoons)
14 St Mary's Pl, Newcastle upon Tyne NE1 7PG
Is there anything better than a full English breakfast? If you fancy a traditional English breakfast for a great price, the Five Swans (Wetherspoons) is one of the best places you can try. It's just a 3 minute walk from the University's city campus and is frequented by students, so why not pop in before or after your 9am lecture? They offer a variety of breakfast dishes which also include a full English Vegan breakfast, pancakes, fresh fruit and many more options all at affordable prices. We went for a full English breakfast (which cost only £3.45) since we were starving and craving one, and it was fantastic! Wetherspoons also offer free refills of your tea or coffee. I always prefer to go there in the morning, sit in a table next to the window, have a satisfying breakfast and go through my lecture notes while sipping my coffee.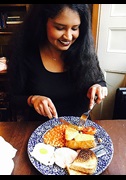 Five Swans is the perfect place to get away for a few hours and a wonderful place to just relax with your friends or by yourself. Also, there is a relatively large outdoor drinking and eating area which is perfect for hanging out on sunny days. Five Swans gets its name from a statue in the grounds of the Civic Centre, opposite, on which each swan represents one of the Scandinavian countries (Denmark, Sweden, Finland, Norway and Iceland).
Lunch – Za Za Bazaar
Unit 8/9, The Gate, Newgate St, Newcastle upon Tyne NE1 5TG
If you want to try a range of cuisines from different countries across the world, Za Za Bazaar is the right place for you.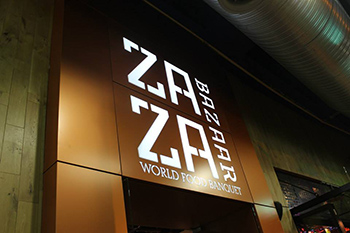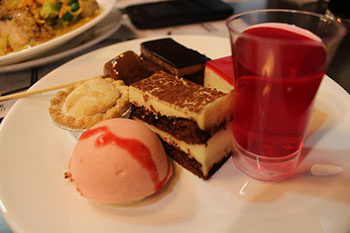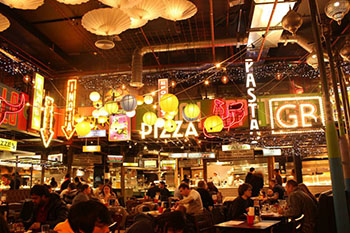 Za Za Bazaar is a buffet-style restaurant with a great selection of food which includes Japanese, Chinese, Indian and Italian cuisines. The surroundings remind me of an Asian street food market with colourful decorations and a massive selection of food. From the starters to the main courses and desserts, I tried almost all of the food choices they had. I would say it is good value for money. Moreover, the fresh cooking section was the best section for some of my friends. Here, the chefs cook your dish however you like (noodles, stir fries, naan breads and burgers).
As a student I prefer to come here throughout the day (for brunch maybe?) as up until 5pm you can expect to pay around £9.99. They also give student discounts if you show them your student ID. When it comes to drinks, a soft drink costs around £2.99 - however drinks are bottomless so you can refill as many times as you like for no extra cost. It is a great place to hang out with your friends or maybe organise a birthday meal since it's a quite big place and can hold many people. I have been to Za Za Bazaar more than five times just to celebrate my friends' birthdays! As an international student this place gives me a homely vibe since it has a massive selection of Asian food.
P.S. I would advise you to go there with an empty stomach!
Dinner – Hop and Cleaver
40 Sandhill, Newcastle upon Tyne NE1 3RG
When we were looking for a place to have dinner for an affordable price, we found an interesting deal in a bar called "Hop and Cleaver". It is located on Newcastle's Quayside.
We went there with some of our University friends on a "Wings Wednesday" where they serve wings just for 25p (starting from 5pm). They serve them in little buckets of 10, so it's only going to cost you around £2.50 in total! You can always order extra if you want to. They have a varied selection of flavours including Barbecue, Honey Miso, Chimichurri, Mango, Korean, Buffalo and many more. Out of all the flavours Barbecue and Korean were our favourites. The drinks were a litter pricier than we expected but they do have deals like two for one including Cocktails.
It can get very busy at times, so it is better to book a table in advance in order to avoid disappointment. If you are going in a large group, you have the option of booking a private area referred to as The Tap Room. It was very comfortable and the atmosphere was great with good music and friendly staff. It is one of those places we keep going back to with our Uni mates. Especially after a long tiring day at University.
Dessert - La Petite Crêperie
Unit 166, Grainger Market, 131 Grainger St, Newcastle upon Tyne NE1 5AE

Our quest for student friendly food establishments brought us to the Grainger Market in the city centre. You can find a variety of food in the market, as well as clothes and crafts. Here you can buy groceries, fresh fish, meat, vegetables and fruits and there are also stalls that offer ready-made food to eat then and there.
One of these places is a little crêpe bar called "La Petite Crêperie". When visiting you don't just get amazing crepes but also a friendly welcoming face and a chat. La Petite Crêperie is located at the Nun Street end of the Grainger Market and there is a small seating area both inside and outside (still inside the market). A variety of different desserts and snacks are offered and there is something for everyone. From buckwheat galletes (Gluten free) with a great range of toppings to the delicious crepes which are especially made for those with a sweet tooth.
We went on a Monday and surprisingly stumbled upon a special deal for Nutella crêpes on Instagram, so they cost only half the usual price (around £1.50). Value for money is great, as you get a crêpe that is both freshly made and very delicious. Additionally, the customer service provided by the young girl from France was extremely welcoming and friendly. We have tried almost all the dessert places around Newcastle (such as Creams Café, Kaspa's Desserts and Crepe Affair) that do crêpes and this place was by far the tastiest!
Merci beaucoup pour les crêpes!
We hope that this information about affordable eats in Newcastle made your life much easier!