Every University has its own individual benefits and they are all designed to be places of fun, friendship, and growth. Here at Northumbria University, I've noticed over my first semester that the the surroundings and vibes around campus are something that interlink so fluently, creating a seamless combination of those three qualities, thus providing a great list of reasons why this University is so fantastic.
ASMR levels of satisfaction
Ok, so it might not be quite on the same level as watching people cut soap, play with slime, or pop a pimple, but you'll definitely still be satisfied upon attending Northumbria Uni. With a 4.05/5 overall satisfaction rate, we're a pretty smug collection of people. But being in the top 3 of North East Universities doesn't come easy, there are so many amazing facilities that Northumbria Uni have built and included in their entire family that contribute to their satisfaction score.
Facilities galore
If you're wondering what the University would have to offer for your free time, well check this out: at the £30 million Sport Central facility, there is everything from personal trainers, free matches every Wednesday, and the opportunity to volunteer across the globe. Or, if you're looking at filling your belly in your free time, you have choice of 11 (yes, ELEVEN) Taste Venues, where they work hard to ensure environmentally friendly, customer friendly, and special requirements friendly food services.
But, of course, you're a student, eager to learn and succeed, so the library will be your best friend for the next few years. I've got to admit, when I first started at Northumbria Uni, the library was one of the main things that really blew me away - it's certainly unlike any library I've been to before. The knowledgeable staff, huge variety of study spaces, help on hand, and, of course, the 24 hour shop (Pringles and Tea on tap!) all make this a place that makes me want to study. Not only is it a highly motivated environment, but it also feels safe, calm and is a perfect change from lecture theatres or bedroom desks.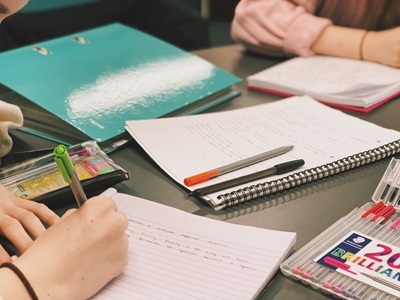 Awesome Students' Union
Being part of the Uni means that you also get the chance to get involved in everything the Students' Union has to offer. Just like The Hub, NSU is built for students, by students and that only means one thing… cheap food.
Yes, you got it, the SU team at Northumbria have come together over the years to create a stylish bar and restaurant, perfect for delicious cheap eats between your lectures; Habita. But this place is one of the many venues that the Union have to offer - Domain, just above, and Red's Bar, on the tip-top floor offer events such as gigs, clothes sales, silent discos, and society meetings. The funny-shaped building at City Campus is laced from head to toe with events for everyone - and when I say that this building is covered 'head to toe' in events, I mean it; once, even the entrance was a venue for an Owl Meet and Greet. And, yes, that Owl's as in the big bird things.
Nevertheless, the Student's Union are also another outlet offering help within the Uni and the challenges it brings. Help Desks at Coach Lane and City Campus both offer guidance on Student Welfare, Accommodation, and Academic Advice or anything else you might need to know.
Just a stone's throw
If you have already read my previous article discussing the Benefits of Studying in Newcastle, you're probably already aware of just how convenient the Northumbria Uni campuses are in relation to the city centre.
Where everything is a simple walk, cheap taxi, or swift metro away, you're guaranteed to have the chance to enjoy the highlights of the city as many times as you like. These highlights, of course, being pretty endless. One of my favourite memories of my first semester was when, after lectures had finished and my new friends and I had some spare time, we took the short walk to Grey's Monument to visit the Christmas Market, passing the famous Fenwick's window and all of the magical amusements. To think that the wonderful joys of Newcastle City Centre are just a fewminute walk away from the place when I can learn and grow, for me, creates a perfect recipe.
So, they are only a few of the benefits of studying at Northumbria Uni and, of course, University life and the advantages that it brings along are completely built from what you make of it. In that case, enough about me, now it's up to you to join in with the incredibly motivated, fun, and excited community, to find what it is about Northumbria Uni that you love the most.
This article was produced by our Student Content Creator Alice Gallagher. Alice studies English Language at Northumbria and has produced many wonderful pieces for The Hub. Read more here.