Habita
(Students' Union, Ground Floor, Shop Central, Northumberland Building, Ground Floor)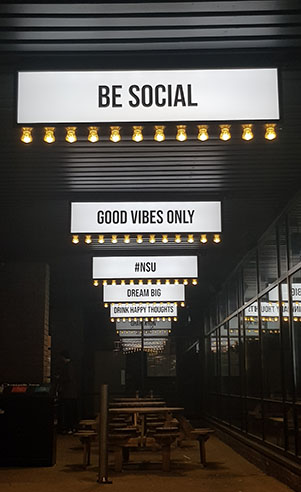 A bar inside the University? That's the first thought in my mind when I found out about Habita. It is one of the well-known restaurants/bars amongst the Northumbria University students and is located next to the student union (right in the middle of the University).
The restaurant offers a wide range of food for an affordable price including breakfast, lunch as well as dinner. The food includes ranges from light bites to premium burgers, pizzas, paninis, pastas and many more. In addition to the restaurant and the bar, there is a mini Starbucks cafe where you can order coffee if you are not up for an alcoholic drink. Certainly, it is one of our favourite places to hangout and meet up for food or drinks after a long stressful day in the University. If you are a football fan or any other sport fan it's the best place to go for a live game.
They put up big screens, which I think is a great idea. Also, Habita is notorious for its events such as Thursday's Karaoke night and Monday Pub Quiz. These events have been happening in Habita for the past few years. Overall, I think that Habita is one of the best places for students to hangout. They offer food and drinks for an affordable price, a perfect place to hang out with friends and watch sports. Most importantly, there is always something for everyone.
Castles Restaurant
(Ellison Building, Ground Floor)
Castles restaurant is one of the new restaurants that launched recently, and it has been a popular eat amongst students as well as the staff in Northumbria University. Castles has two different restaurants; Subway and a Pizza restaurant. In both restaurants the staff are very attentive and friendly. The food is always fresh with a wide variety of options and have many deals to pick from. When it comes to the Subway restaurant, I think that if you choose right you can get a good healthy and nutritious meal. The calorie count is displayed and always helps me choose healthy. Compared to the other Subway restaurants around the city, I have always found the Castles subway restaurant breads to be fresher, the vegetables to be crispier (not wilted) and the place to be cleaner. Just as the Subway restaurant, the pizza restaurant in Castles has variety of pizza options for an affordable price. You can either choose to eat in, take away or bake at home. Castles restaurant as a whole has a large number of seating spaces perfect for hanging out with a group of friends during the lunch time. During the break time if I want a quick meal that's inexpensive, delicious and fulfilling I always end up in the Castles restaurant.