COURTSIDE PICASSO: THE POWER OF DRAWING
Growing up, I was always curious of the world and finding out more about myself. Like most kids, we play around and come up with quirky role-playing games. At my grandparents camp, I used to make my speciality mud pies for my Oma (grandma) or hunt for diamonds like I was a miner. I recall smashing a lot of rocks with my Opa's (grandpa's) hammer and he freaked that I would hurt myself. But, I told him that I needed to find the diamonds so that him and Oma could retire early.
When my mom would take me to the store, I used to hide in clothing racks or pretend I was on a silly quest, like those Disney films from the 90's. Now that I see my four-year old brother inventing his own world, it makes me hopeful for his future.
Imagination is powerful. It can change lives for the better and inspire many generations.
For awhile, I actually was distant with art and focused on the athletic side of my life. I've been playing basketball since I was 12. I am now 26. Before going into my undergraduate years, I was directed back towards my creative roots. For so long, I thought I moved on and would focus on just being a Hooper, while possibly getting into sport marketing or personal training. That became the ideal route for most athletes.
However, memories came back to me of how I used to draw all the time. So, I began to draw again. The more I drew, the faster my crafting skills improved. It's relaxing and satisfying. While studying animation at Northumbria, I've developed my character concepts more. I want to continue to invent my own style. An artistic identity.
I realised that, although I did my undergrad and postgrad courses in graphic design, my true passion lied in storytelling. There is something special about creating fantasy/fiction characters with real-world emotions. I like to draw mainly people of cultural backgrounds, mixed with hints of magical powers or attributes. Like the superhero, spider-man, he symbolises the youth mindset and can connect with others on a human level. That's why he's a recognisable character.
Sometimes, I like to draw because I want to take a break from earth. The world can be a complex place and overwhelming.
Drawing is honestly like my momentary getaway.
I simply find a comfy spot, grab my sketchbook, connect headphones to music, and just draw. Personally, I listen to certain genres of music based on the style of my character that I am aiming for. It helps me focus as well.
I am usually not big on drawing in colour. I like to sketch things out then make edits on my computer, if I want to create stronger contrast. Currently, I have made quite a small collection of character concepts on my Instagram, based off portraits of friends and family. It's nice to see the positive vibes that I have received as thanks for my efforts. As simple as drawing may be, it can easily bring good company and brighten someone's day. You don't have to be amazing or super gifted. A small sketch can go a long way.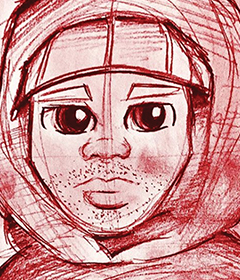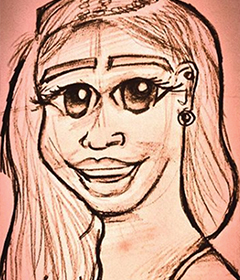 INSTAGRAM: nygi_designs_