The January blues are over so here at Northumbria, we are embracing some of the exciting places you can visit this February. Read on to find out a few of the things you may want add to your calendar this month!
A 14th of February Screening of 500 Days of Summer at Newcastle Castle
Whether you love Valentine's Day or just love to hate it, 500 Days of Summer is the perfect guilty pleasure flick to enjoy come February 14th. This quirky noughties rom-com sees main character and greetings card writer Tom Hanson (Joseph Gordon Levitt) as he begins to process his painful break up with the quintessential manic pixie dream girl, Summer (Zooey Deschanel). Your £20.50 ticket not only gets you access to the screening at Newcastle castle but also a candle lit buffet to top it off. Oh, and it's BYOB making it the perfect evening for those pinching the pennies!
Visit to the Flea Circus, Warwick Street
Did you know that a circus with a difference has made its way to shieldfield? Newcastle is now home to Flea Circus – self-described as "A department store of independent sellers and creatives. Flea circus is home to a thriving hub of both hand crafted pieces and vintage finds; perfect for those wanting to live more sustainably and support local business at the same time. Flea circus has set up shop by The Stars and Shadow Cinema making it the perfect pit stop if you find yourself in the trendy Ouseburn area. Shops include Just Ginger Interiors, Hap, Etch Interiors, Lazy One vintage and Raw Pot handmade plates. Make your student room all of your own with one of a kind, prints, furniture and ceramics. Just pop in to see their ever changing stock.
Take a trip to Beeronomy
Any foodie will know that they are already spoilt for choice when it comes to fine dining in Newcastle but if you are a beer connoisseur as well, Beeronomy may just be your new favourite haunt. Located on Hood Street in the city centre, this is a restaurant (as you may guess from the name) that focuses on both beer and gastronomy. Pick up a charcuterie plate, a small plate or something grilled from their wood fired Bertha Oven and the best bit is each dish can be served with a perfectly selected beer to bring out the flavours.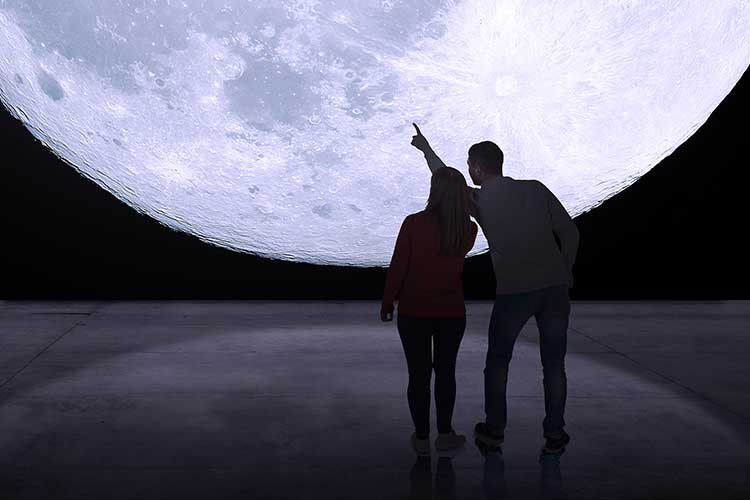 Moon gaze at The Life Centre
From February you can moon gaze from the Life Centre and witness The Museum of the Moon, a stunning touring piece of artwork by UK artist, Luke Jerram. So far it has travelled through the Commonwealth Games in Australia, 5 different cities in India, and all the way to Aarhus in Denmark for the European Capital of Culture. Now you can witness it from the Toon and marvel at its detailed surface accurately portrayed thanks to the incorporation of imagery captured by the NASA spacecraft Lunar Reconnaissance Orbiter. The sight of this seven metre wide sphere is also accompanied by a gorgeous soundscape created by BAFTA winning composer, Dan Jones.
Cool off at Lonewolf Ice Bar
The ice outside has finally melted away, the weather is warming just in time for spring so naturally you want to cool back down in a new sub-zero bar located in the Stack. Enjoy a range of spirits and drinks from LoneWolf spirits. Pop on your poncho and enjoy your ice cold drink in a real glass surrounded by ice sculptures made for HBO's Game Of Thrones Ice. Do make sure you visit long before April's premiere if you are a fan as it will be gone by March.
Have we missed anything in particular you are especially excited for this February? Let us know via social media!