The Squires Building of Northumbria's vibrant City Campus houses a plethora of useful facilities open for use, for arts and media students alike. As a BA (Hons) Fine Art student myself, I am blessed to have been offered experiences first-hand with such workspaces.
With open hours from 6:00am-8:00pm, I am free to make the most of what I have on offer studying here at Northumbria, and rest assured you can find me in my section of 1st Year's studio until late!
With plenty of studio space provided across multiple floors, there's room for Foundation through Third Year to produce and present work. I find that the ability for everyone to exhibit their work is not only an excellent confidence booster, but can also promote healthy discussion and constructive criticism between tutors and students, as it allows all participants to be at the same level of accessibility.
Furthermore, having the opportunity to have academics on hand during contact hours is seminal for developing skill sets for the professional world, as you brush shoulders with real-life contemporary artists who have established their own styles and aesthetics. Not to worry or feel intimidated though! You get to know and befriend these accomplished people over the duration of the course, through seminars and tutorials as they train you to achieve the same, all the while maintaining a considerable work ethic.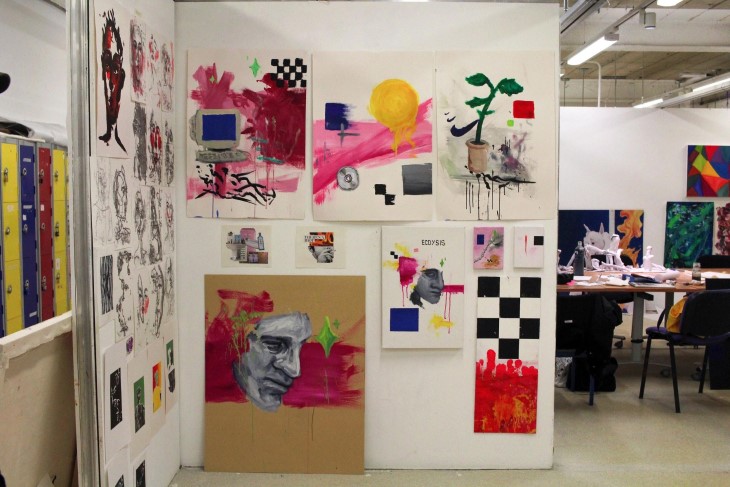 Specialised Facilities in building
First and foremost, on the ground floor with easy access connecting from the Library and Ask4Help foyer, we provided with a corridor of multiple technical resources. Hence the reason why we call it the Technical Resource Centre, or TRC for short. If you take your place in the queue, within minutes you will be with a Technician who can hook you up with immense amounts of highbrow apparatus, including Digital and Analogue Cameras, Cinema Cameras, Photography Lighting, Televisions - the list goes on! There is even the ability to book out specific Photography and TV studios through the TRC. Of course, with any specialist equipment, a majority of these items require risk assessment and induction to use, however the qualified Technicians are more than willing to train students, passionate to bring their ideas into fruition with such facilities.
For an end of year exhibition, I found myself using a VHS TV to present a film I had produced, and only had a few days left to set up my equipment responsibly. Technicians at the TRC were incredibly cooperative and accommodating in PAT testing my TV and helping me book out media players for the first time.
Located on the first floor, students have access to a collection of Mac Labs, containing high-end Apple Mac computers capable of running heavier production software including Adobe Photoshop, After Effects, Illustrator, etc. As most students on creative courses know, these applications don't come around too cheap, so it is a great advantage for us to have all of these available to use. This is only enhanced by the fact that there is a digital printing room next door joining the bridge into Squires Annex and Lipman Building, containing premium ink-jets for large scale prints of the work that you can create on Photoshop and more! If you require a more analogue process, at the end of the corridor on the second floor resides the Print Workshop. Spanning across multiple studios, it is furnished with heavy-duty printing presses and screen-printing frames. Again, as tedious as it might seem, these require inductions from the Technicians, for the benefit of your own health.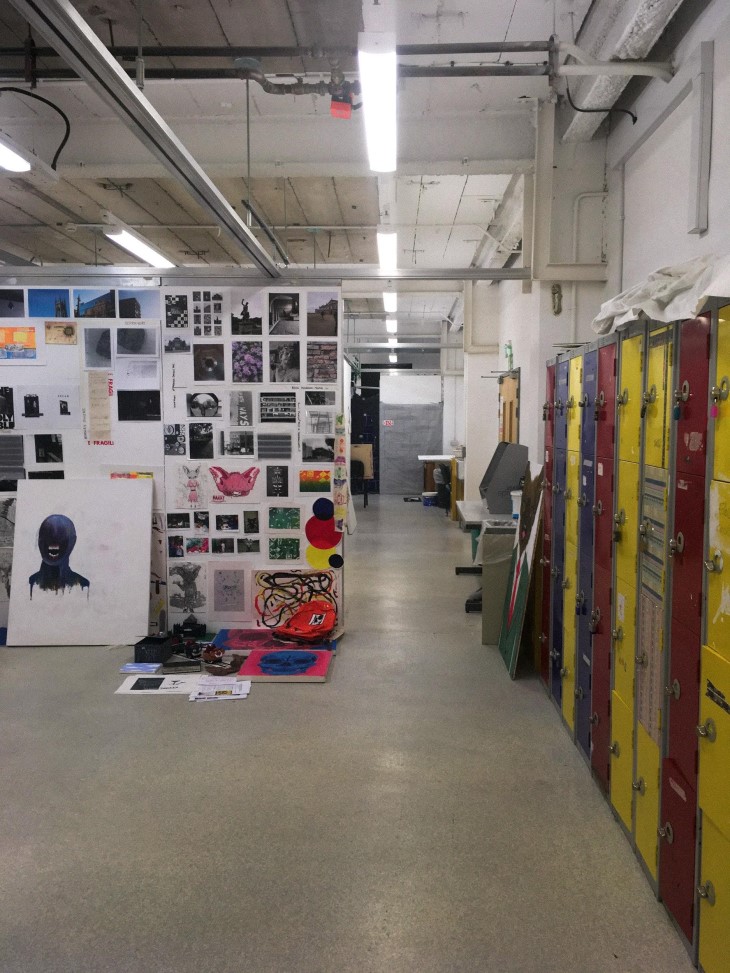 Bailey Oliver