Hi Everyone,
My name is Miso Kenjic and I come from Bosnia and Herzegovina, where I was born. I am very recent graduate and - now Alumni - of Northumbria University, with a Masters in Disaster Management and Sustainable Development from the Department of Geography and Environmental Sciences (Faculty of Engineering and Environment).

Where it all started…
I have been involved in humanitarian work for many years, in international and local Non-Governmental-Organisations (NGOs) in Bosnia and Herzegovina (BiH). The war in BiH during 1990s left devastating consequences for many families. Such a destructive prolongued about disaster brought so many underlying issues, such as a lack of medicine, food, water that created huge disaster. All of these problems that my and other families were facing shaped my future carrier goals, and I was committed to work on mitigating and preventing any kind of human-made or other disasters.
Human beings have a fascinating ability to overcome hardship, such as that caused by natural and human-made disasters. We also have a unique capability to learn from such events. Also, with disasters on the rise due to climate change our ability to learn lessons from previous disasters is more important than ever. Safeguarding the necessary standards for a decent life amid turbulent times is what interested me in the topic of Disaster Risk Reduction.
My time at Northumbria…
The Disaster Management and Sustainable Development Masters programme offered by the Northumbria University was in accordance with both my past experiences and also future aspirations. Before coming to study at Northumbria, I was actively involved in work of several United Nations (UN) agencies (such as UNICEF, UNDP and UNV). More precisely, I was actively involved in the Response and Recovery programme of the UN during and after the Floods 2014 that affected 610.000 people of 3.5 million citizens of my country (BiH). Therefore, Northumbria's MSc in Disaster Management and Sustainable Development was the best choice in order to acquire the further necessary knowledge as to how to cope with real disastrous events with more sustainable solutions.
The MSc in Disaster Management and Sustainable Development at the University of Northumbria has enabled me to now, upon return to take a more prominent role in these issues within my country, Bosnia and Herzegovina.
Perhaps the most important lesson I did learn in working on the Floods Recovery Programme was the extent to which disasters are extremely complex. I gained a strong introduction to relevant skills such as how to minimize casualties, connect players across the nation, and carry out emergency response assessments. I learned how important it is that all members of a community receive education on how to act in emergency situations, starting from a young age. This is something I explored in my Masters Dissertation, exploring the flood prevention and response issues around on primary school as a lense on these issues across the country.
The module on Integrated Emergency Management on my Northumbria Masters programme was particularly useful in helping me learn how to communicate the importance of these steps, which have been seriously neglected in my country.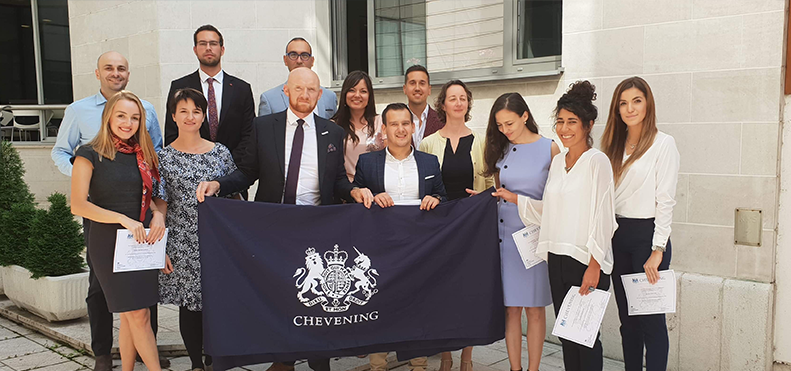 I was also very interested in the Sustainable Development aspect of this programme, which is something that sets it apart from other disaster management programmes, reflected in its impressive history as the first Master's degree of its kind in UK.
The opportunity to gain a new perspective on development in the module on Themes in Sustainable Development helped me address the fact that many development projects carried out by the large development community in BiH fall short of long term sustainability.
The module on Disaster Risk Reduction and Response allowed me to delve into the main topic more deeply, and I really valued being able to learn from experts in the field who have a great amount and variety of experience.
As BiH continues to strengthen its institutions and bolster its democratic processes, the international community increasingly promotes domestic ownership of political and developmental initiatives. I am determined to assist in and shape this work in the future, and I am personally committed to working in domain of civil protection and emergency response. This Master's Degree has made me well-placed to build on my professional experiences and lead this indispensable process. With the rapid change and improvement of skills and technologies in our global world, it was essential to my professional goals that I have learned the most advanced methods and practices in the fields of development and disaster management.
Being a Chevening scholar...
I can't miss the opportunity to mention that I was a Chevening scholar. Chevening is a UK funded scholarship by the UK's Foreign and Commonwealth Office, and it offers (on a very competitive basis) scholarships to people from developing countries to equip them with a Master degree from the UK. They look for 'future leaders' and only want to award the scholarships to the 'best of the best'. I feel very proud that I was one of 1790 scholars from 145 countries in 2018 that received this prestigious scholarship, selected from among over 65000 applicants in 2017/2018.
My life in Newcastle and studies at Northumbria University was such a unique and beautiful experience. Research-led and student-centred teaching is something that is making all students to be a part of the learning process and lessons, engaging them and ensuring that their voices will be heard and their potential realised. The equipment and all necessary support at every step, beginning with the Student Union, The University Library, IT support, sport activities and many other facets, made my time at the Northumbria University supported and comfortable, and best of all filled with beautiful times and friendships that will last forever! Therefore, I am strongly advising all future students to choose Northumbria University since they are offering much more than knowledge; there is a lot of fun too!
- Miso