Information Rights Law and Practice Postgraduate Certificate
About this course
This distance learning course is the first postgraduate qualification designed to unravel the complexities of information rights.
Information Rights has developed as a profession in its own right in recent years, particularly since the introduction of landmark Data Protection, Freedom of Information and Environmental Information legislation. This course is designed to meet the distinct needs of those working in the area, where a detailed knowledge of the relevant legislation and an ability to apply it in practice is essential.
The linked structure of the course gives you maximum flexibility in your studies. The PG Cert is the first stage award; you can either exit at this stage or progress to the PG Dip and LLM. This course is not eligible for the postgraduate government loan.
Learn from the best
You will learn from inspirational academics with a genuine passion for their subject and extensive professional experience, through modules shaped by world-leading and internationally excellent research. Staff interests include domestic violence, privacy, human rights (particularly the rights of children) and data protection; the unauthorised disclosure of official documents and whistleblowing; and Environmental Information.
Our academics balance teaching, research and working with external organisations. Team responsibilities include membership of the Gender Sexuality and Law Research Interest Group, membership of the steering group for the Legal Education and Professional Skills (LEAPS) Research Interest Group, and editorial responsibility for a number of leading law journals.
The course is delivered by Northumbria Law School, three times winners of the prestigious "Best Law School" accolade, awarded by the Attorney General's Student Pro Bono Awards.
Teaching and Assessment
As a distance learning course, the key principle of your postgraduate provision is that of reflective practice, placing you at the centre of the learning process. You will be provided with detailed learning materials for each taught module via the eLearning portal site.
The course is taught from a practical viewpoint, enabling you to understand and apply the relevant law. Assessment, both formative and summative, forms an integral part of the learning experience. Formative assessment includes self-test questions, group discussion, informal peer assessment and non-assessed exercises. The main summative assessment method is individual assignment to encourage a deep learning and a critical approach to learning.
An online early "surgery" session with your course leader gives you the opportunity to discuss expectations, explore issues and provide guidance in terms of assignment submissions and extenuating circumstances.
Learning Environment
Technology Enhanced Learning ('TEL') is an integral part of this innovative distance learning course. The eLearning portal provides access to detailed learning materials including lecture materials, study notes, discussion boards, virtual classrooms, self-evaluative tasks and opportunities to engage with your tutor and fellow students.
We offer optional study days in the Law School to help distance learning students get the best out of the course. Panopto software will be used to record teaching activity taking place on study days and the footage will be made available online.
Research-rich Learning
Research is embedded throughout the course, and you will encounter all quadrants of research rich learning: research-tutored, research-led, research-based, and research-orientated. Starting with Legal Research, you will be exposed to a variety of research-informed experiences within subject modules.
Law School research focuses on the areas of Law and Society, Legal Education and Professional Skills, and the Centre for Evidence and Criminal Justice Studies. These internationally recognised groups act as a focus for research activity across the Law School, and their work feeds into taught courses to ensure the course content is informed by research developments in the sector.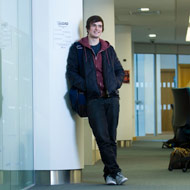 Give your career an edge
Information Rights Law and Practice has been designed for practitioners specifically charged with processing information and for other professionals working in environments where information is held, including central and local government, health, education and commerce. The PG Cert will enable you to understand and apply your knowledge within your career, and offers career development by improving your academic profile.
You also have access to specialist careers support within the Law School, including employer engagement sessions.
Your Future
Our graduates are equipped with expert knowledge and theory in their chosen field along with critical, analytical, research and wider transferable skills. The course aims to ensure your development of legal knowledge, legal application and critical analysis and to equip you with the professional and reflective skills necessary for practice, whatever your profession.
The curriculum will enable you to apply legal skills to common problems you are likely to experience in practice, provide you with skills necessary to reflect upon and develop policies relevant to you own workplace.
The nature of the course means that, on completion, the majority of graduates progress to the Postgraduate Diploma.
Course info
Level of Study Postgraduate
Mode of Study 1 year distance learning
Department Northumbria Law School
Location Law and NBS Building, City Campus East
City Newcastle
Start September 2018