About this course
Would you like to develop your art practice in a vibrant research culture, supported by dedicated studio space and outstanding exhibition facilities?
Developed in conjunction with BALTIC Centre for Contemporary Art, the BxNU (MFA) Master of Fine Art course is centred upon praxis – promoting active learning through practise-based artistic research, scholarship and critical reflection.
You will be given the unique opportunity to design and develop your own investigations, determining themes, questions and strategies and moving between experimentation and reflective analysis to production, presentation and publication.
Taught by a wide range of distinguished and internationally respected practitioners, you will undertake field trips and workplace visits, in addition to the option of a study abroad through the Erasmus Exchange programme.
This course offers the perfect opportunity for you to develop your professional skills and prepare for a broad range of jobs.
We encourage all applications to the MFA programme for entry in September 2017 to apply prior to our guaranteed application review date of 1st June 2017. After this date, we will review applications subject to there being remaining spaces on the programme.
Modules & Learning
A multi-discipline approach to fine art is encouraged when studying this course and all forms of artistic practice are welcomed. You will be encouraged to develop the full potential of your own individual skills through experimentation and critical reflection, with support throughout your development. Teaching is delivered via a range of methods including lectures, technical workshops, seminars, group critiques and individual tutorials.
A programme of studio critiques, seminars and exhibition visits will also enable you to develop the discursive and critical skills necessary to articulate issues relating to your practice.
Assessment is undertaken by a combination of studio/exhibition presentations, written submissions and oral presentations, which will be filmed by the BALTIC archive crew to allow you to assess your own performance whilst developing a personal archive of your work.
Field trips and an optional study abroad will also allow you to further enhance your skills and knowledge.
Teaching Staff
Directed by the BALTIC Professor, teaching is delivered by a network of internationally active artists, academics and curators who provide world-class teaching and mentorship in fine art practice and research.
You will be taught by BxNU partners, which includes the Master of Fine Art team and wider Northumbria University staff, the BALTIC Professor and curators from BALTIC Centre for Contemporary Art.
Throughout the duration of your course you will also benefit from subject-specific input from specialists from other University departments and external contributors.
When studying, you will be given the unique opportunity to discuss your work and receive feedback from a wide range of visiting artists, critics and BALTIC's educational and exhibition teams, all of which boast extensive knowledge and experience within the contemporary art field.
Facilities
Throughout the duration of your course you will have access to a wide range of leading facilities.
In addition to the unique provision for research and practice provided by PSN (Paper Studio Northumbria) and CSN (Colour Studio Northumbria), you will also have access to fully-equipped sculpture workshops (wood, metal, casting, ceramics), print workshops (screenprint, etching, lithography, cyanotype, drypoint, photo-etching, photo-intaglio, monoprint), analogue photography darkrooms (B&W and colour fine print & processor), photography studios, a Mac suite with 24 stations for digital imaging and video, digital output facilities with high resolution printers, conservation workshops and central media stores with online booking for still/moving image, sound and lighting equipment.
The use of technology is embedded throughout, utilising resources such as electronic reading lists and virtual seminars to connect you to national and international networks.
You will also benefit from our direct proximity to BALTIC's stunning 300 square metre top floor galleries which are also the site for the MFA graduating shows.
Research-rich Learning
The Master of Fine Art course is centred around research-rich learning, with teaching delivered by internationally active artists, academics and curators. You will be mentored by this team, allowing you to develop an understanding of the wider professional context of exhibition and interpretation.
You will have access to the research environment at BALTIC 39, providing you with the opportunity to participate in the weekly postgraduate conversation, Talk Studio. The momentum and content of these sessions are tailored to the experimental open nature of the studio environment and driven by your own investigative processes.
Your own research is also important and you will be encouraged and supported to set up initiatives that actively contribute to the research environment of BALTIC 39. Currently this includes student-led initiatives such as reading groups, a performance group, a photographic research group and student-led 'test-bed' crit sessions.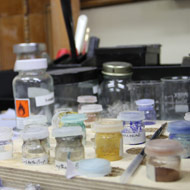 Give your career an edge
Our graduates are highly valued with employers thanks to the reputation of Northumbria University and our unique partnership with BALTIC Centre for Contemporary Arts.
On graduation you will be able to think and act independently, applying your disciplinary knowledge to complex issues in an imaginative, sustainable and reasoned manner whilst marry method, form and ideas. You will also possess an awareness of industry standards for presentation and communication.
Throughout your studies you will be encouraged to initiate opportunities to work with artists and arts organisations, in addition to bespoke opportunities initiated by staff teams. These opportunities include exhibitions, performance events, symposia and workshops which to date have included work in the UK, as well as Poland, The Netherlands, Northern Ireland and Stockholm.
Undertaking field trips and visits will also contribute to your employment prospects, with a study abroad further developing your experience, expertise and career prospects.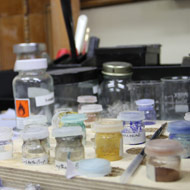 Your Future
The Master of Fine Art course will prepare you for a range of careers thanks to the diverse range of skills that you will acquire throughout your studies.
You may wish to pursue a broad range of jobs within the cultural sector, curating, professional research, teaching or doctoral studies.
The provision for enterprise or self-employment is delivered through professional exhibiting opportunities including grant and CV writing, developing your own web presence and testing writing with external stakeholders. You will also learn how to manage your time, resources and budgets.
Despite being a new programme, the Master of Fine Art course already boasts successful alumni , including Gethin Wyn Jones, currently a research fellow at the Royal Institute of Art, Stockholm and artist Joanna Hutton who was selected for EVA International, Ireland's Biennial, less than a year after graduating.
Course info
Level of Study Postgraduate
Mode of Study 2 years full-time
Department Arts
Location Baltic 39, Newcastle upon Tyne
City Newcastle
Start September 2017