About this course
This course is being updated. Tell me more
Current, Relevant and Inspiring
To ensure that all of our courses remain current, relevant and inspiring, our leading academics continuously review and improve course content in consultation with our students and employers. 
To make sure we can keep you fully informed on any changes to your course, register for updates by entering your details on this short form
Your Learning Experience
At Northumbria University our approach to creating a distinctive learning experience is simple but powerful.  We have the right people, the most relevant courses and we work with you, at every stage to maximise your potential.
To find out more about our distinctive approach click here
Please note that the last intake to the first year of this course was in the academic year beginning in September 2015. The course has since been revalidated, and if you are interested in starting the first year in 2016/17 or later please follow this link to the latest version.

https://www.northumbria.ac.uk/study-at-northumbria/courses/sport-development-ba-hons-uufspv1/

However, we are still considering applications for from suitably qualified applicants who may want to begin their studies in the second year. Please contact Admissions for advice.
Do you want to work alongside young people and inspire them to make positive lifestyle changes through sport?
On our BA (Hons) Sport Development with Coaching, you will develop exciting and engaging activities that inspire children and people both young and old, across the contexts of physical education, community sport and physical activity to maintain active and healthy lifestyles.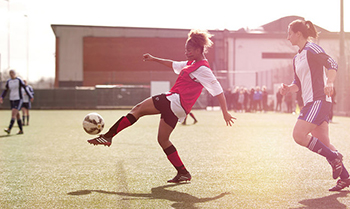 By embarking on CPD opportunities, usually within primary or secondary education, you will have the opportunity to apply your knowledge and experience in a real sports coaching environment to ensure you have a sound understanding of both the theoretical and practical elements of sports coaching and development.
In your final year you will specialise in areas such as community development and social issues, sport development organisations and coaching skills and practice. This will allow you to become an expert in your preferred area of sports development.
You will be supported by experienced academics and industry experts, some of whom are renowned for their work to raise standards of coaching across the world. As part of your ongoing development you will be taught how to self-analyse your own methods and continuously improve your approaches to coaching.
There is also an option to apply to work as a volunteer or intern for Northumbria University Sport's Student Development programme. This programme offers select students invaluable opportunities to work within sports coaching with a number of exciting opportunities.
These include sports coaching, Football Futures, sport development and the Zambia I.D.E.A.L project.
95% in work or further study within six months of graduating (Unistats 2014)
Sport, Exercise and Rehabilitation from Northumbria University on Vimeo.
Watch our Sport ASK Northumbria Q&A event
Facilities

Described as some of the best campus sport facilities in the country and rated Top 5 in the country by the recent Times Higher Educations Student Experience Survey 2014. We boast facilities for teaching & learning that rival any in the world. Predominantly housed in Sport Central, a new £30 million pound purpose-built sports building. 
Research

Northumbria is ranked in the top 30 for excellence in sport and exercise science research power, making it the best rated university in the North East in this discipline (REF 2014)