Working as a Marketing Intern at Northumbria University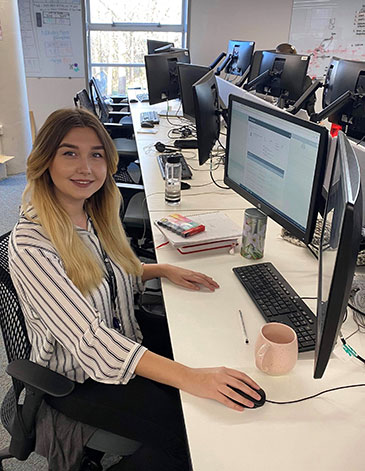 Background
Hi, my name is Eden and I have been working within the Postgraduate Marketing Team as an intern since September 2019. I began my journey at Northumbria in September 2017 when I started my undergraduate programme, Business Management. During my studies I discovered my interest for marketing and by my second year of study, having partaken in some marketing modules, that this was the field in which I wanted to launch my career. With this in mind, and with the second year of study progressing, I made a choice to participate in a placement year. I knew I enjoyed the marketing modules I had been studying, and I also at this time had a part time job working within marketing for a local start up franchise, which I loved. Therefore I thought that aiming to secure a marketing placement would help to solidify my ideas, and prove to myself that this was the field for me.
Finding my placement
When searching for marketing placements, I came across quite a few. I also made use of Glassdoor.com which shows reviews made by previous placement students/interns about existing placement opportunities. I wanted to make sure that I was applying only for placement opportunities which promised experience of a varied range. This is why Northumbria University's placement ad caught my attention. I first saw the ad on the MyPlacement section of my student portal and within the job description I saw a call for tasks I was already confident in as well as tasks and skills I was keen to develop. The ad was exciting and refreshing, and I didn't hesitate to apply.
Application process
I started by submitting a CV and covering letter, which I had been given guidance on within my Employability and Career Planning module at university. I spent a good amount of time perfecting my CV, and ensuring that it showcased my abilities, experience and enthusiasm as much as possible. I really wanted this placement and therefore I knew I had to put my heart and soul into doing all that I could to secure it. Fortunately, I appeared my CV and covering letter were appreciated as I received an email inviting me to attend an assessment day at the university.
The assessment day took place in March and involved a group presentation (for which I was required to prepare ideas), a proof reading/writing task, and an interview. This assessment day was the first of its kind I had done in my search for a placement, and I was henceforth filled with anticipation. However, I found the day rather fun. We were given the opportunity to showcase our creativity and organisation skills, but we also just had fun day getting to know members of staff, existing interns and other candidates. I asked existing interns a lot of questions about the placement, so I could gain a better understanding of what I was to look forward to should I be successful in my assessment, and the interns had nothing but wonderful things to say about their experiences. I felt well informed and excited by the idea that I may be able to secure a placement working here.
The very next day, I received a phone call informing me that I had been successful and was set to begin my placement journey in September 2019. I was ecstatic! All of my hard work and dedication had paid off and I was now set to embark on my placement and develop my skills in marketing!
My experience so far
As I enter my sixth month of my placement, I am able to see why the previous interns I talked to on the assessment day spoke with such enthusiasm about their experiences. I have had such a wonderful experience here and have been able to participate in such a varied range of tasks. I have been given responsibility, trust, training and guidance in all areas of work, and my skill set and confidence have blossomed as a result.
I have undertaken training in a number of areas including the use of software such as PhotoShop, InDesign, Adobe Audition, SiteCore, PremierePro and Connect. I have also been given training to formulate emails, give campus tours and help during Open Days and events. I've learned to create adverts, upload and amend the company website, create branded imagery, compose articles, conduct audits, organise and carry out meetings, and assist on video shoots for our 'Masters in a Minute' videos as well as Live Stream video events. Every step of the way I have had the support and guidance of my manager and team mates, and I've grown hugely, not only in a professional sense, but also personally as a result of this placement here at Northumbria.
What is the day-to-day?
Cliché as it may sound, no two days at work for me are ever the same. I may begin my week creating display adverts to showcase an upcoming event we have at the university, but before the working week has drawn to a close I will have completed a number of other tasks. One day every week I monitor the email inbox for postgraduate emails from students, asking questions, seeking guidance and looking for information. Other days I may be writing articles, or creating content for third party websites such as prospects or UCAS. Every day is a different experience, and life here is never boring.
Why would I recommend applying for this role?
While I am not looking forward to having to leave my role here within the Postgraduate Marketing Team at Northumbria, I am excited to pass on my knowledge to someone new, and give them the opportunity to enjoy this role as much as I have done. I couldn't recommend this placement enough and I would advise anyone who considers themselves to be a creative and driven person with an interest in marketing to apply. This role is not about having all of the skills and knowledge on arrival but rather utilizing the skills you do have and working with enthusiasm and dedication to build that knowledge base and skill set throughout your time here. Northumbria is truly a place where attitude is valued and talent is nurtured, all you need is the desire to want to push yourself and seize all the opportunities for development that Northumbria provides.
How can you apply?
Full details about the job role can be found on your student portal within the MyPlacement section. I would advise any students interested in this opportunity to head over to their student portal, read the job description and then submit their CV and covering letter to bc.ug.marketing@northumbria.ac.uk by 14th February.