Snow in March has the potential to be really annoying, and when the arctic conditions hit, I feared the worst...
It was a cold, wet and two jumper's kind of week, but it was a fun week. It didn't stop us going out at night, and I still managed to make it into my lectures. The snow was deep and constantly falling, however it never actually got bad enough to make it impossible to do anything. All you had to do was set off slightly earlier for everything, so that you had time to tackle the slippery underfoot conditions. The town centre became this slush fest, where people were splashing water at each other as they walked. Northumberland Street looks totally different with snow on it, though its personality didn't change. The fruit and veg man was still shouting, as was the pillow salesman and the flower stalls.
My friend Van is from the Philippines, and he's never seen snow this thick. He loved it, and rode his bike through it every day. His assessment was that it was a 'nice change of scenery', rather than a terror to keep you indoors. He is one of those strange people that will leave the house in a t-shirt when it's like 5 degrees. This is something I cannot do, and I wore a whole host of layers to try and keep warm. Two pairs of everything basically, and a woolly hat that is completely out of fashion, but became an essential. When it gets below freezing it's a different kind of cold - another level of biting that gets at you whatever you're wearing. Thankfully my favourite pastime of going to the cinema almost always happens inside. It's not the warmest in the Cineworld however, and the two jumpers stayed on whilst the films were playing.
Some of the great films are set in the snow, such as Fargo, which uses the wintery setting for some lovely storytelling. The worst film I have ever seen is set in the snow and is called The Snowman. It came out last year, and honestly is the most horrific thing I have ever seen. It's like it was made by several delusional people. I was thinking a lot about how bad it is, whilst I watched the snow fall.
Taxi drivers are amazing when it snows, because they are so committed to get you to your destination. It was Wednesday night when the weather was at peak intensity. The ground was covered and even the main roads were pretty white. We were swerving quite a lot, and I was convinced we were going to have to get out and walk. Our taxi driver was persistent though, and he got us up a small side street to my friend's house. It was an incredible feat, and I'm not sure how he did it.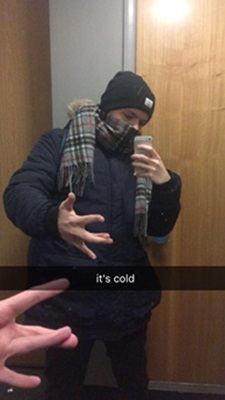 The best thing about the snow is of course dogs playing in it. It's one of my favourite genres of videos, because their excitement to jump around in it is crazy.So I was thankful to see my twitter feed full of those videos when the snow hit. I'm much more positive on snowy conditions than I used to be. Back in my final year in school we had to a presentation on something that annoyed us and I did a 10 minute rant about how much I hated the snow. After surviving the 'beast from the east' and realising that you get fewer snowballs thrown at your head when you're 20, I'm much more positive on it. I'm glad it's over though because it's about time it got warm again.
My final assessment on the Beast from the East can be found in this image of myself: