The new year mean it's time to settle back into student living and rediscover all the city has to offer. Read on to find out more about just some of the inspiring events and activities taking place in the Toon this January.
Animalesque/ Art Across Species and Beings: 16 November 2019 – 19 April 2020
If you haven't already, now is the time to visit the Baltic Centre for Contemporary Art across the river on Gateshead Quayside.
This wonderful exhibition takes a necessarily fresh look at the relationship humans have with nature through various mediums including film, video, drawing, sculpture, installation and sound art.
This exhibition combines the works of a staggering list of artists wanting to rethink the human position on a fragile planet that we share with a swathe of other life forms that also need protection. In the face of climate change and other major challenges facing humanity, there is no better way to reflect on this issue and consider the actions we can take in the New Year.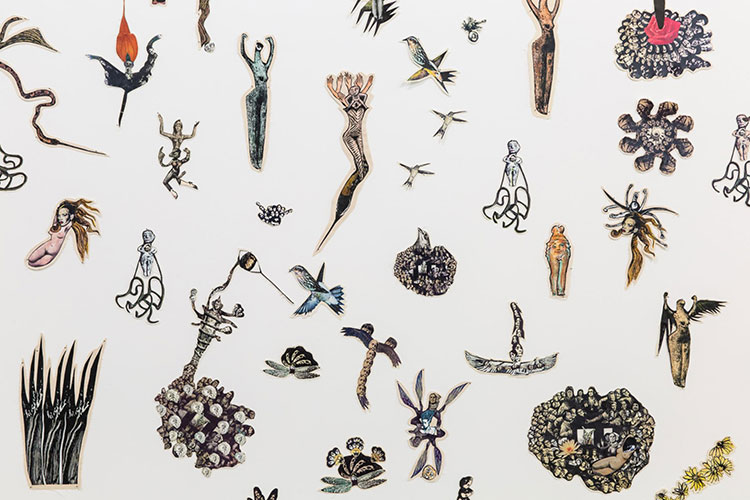 Untitled (1972 – 2011), Mary Beth Edelson
Vegan Fest: Tyne Bank Brewery: Fri 17 to 19 January
Another year, another delicious food battle in Newcastle. Whether you are doing Veganuary, trying to be a little more health conscious in the New Year or just love a good Food Festival when it's in town, make sure to visit the groovy Flower Power Vegan Fest at the Tyne Bar in late January. Sample some plant based delights from four different vegan street food vendors, and listen to some typical Tyne Bar tracks whilst you do. The wine and beer selection is vegan too!
The event is free and samples cost £3 each
Restaurant Week: 20th to 26th January
Restaurant Week is back in January making visiting your favourite restaurants an affordable treat that you and your pals can't miss! With great deals across the city the real problem will be choosing where to go! Partnered restaurants include As You Like it, a two minute walk from our Newcastle campus; Dobson & Parnell on the Quayside; the lovely Kaltur located on the ever-cool High Bridge Street; and many more!
Behind the Seams: 25th January
Interested to see how your clothes are made? Head to Pilgrim Street to the Fashion Lab for a glimpse of how it's done. Inspired by Fashion Revolution's annual 'FASHION OPEN STUDIO' initiative, This 'Behind the Seams' event offers city goers the chance to drop in and experience the workings of a contemporary embroidery studio producing sustainable, slow fashion right here in Newcastle!
Stop by The Fashion Lab between 2-6pm on Saturday 21st January to see what it's all about.
London Campus:
Whitechapel Gallery
Soak up some culture in between lectures with a visit to Whitechapel Gallery - less than a ten minute walk from our London Campus. This gallery has premiered past works by world-leading artists such as Pablo Picasso, Jackson Pollock and Frida Kahlo. Exhibitions include soundscapes from Eileen Simpson and Ben White (Open Music Archive): Once Heard Before and Sense Sound/Sound Sense which captures the sounds of objects interacting with a grand Piano.
Here you'll also find The Whitechapel Refectory which serves up tasty bites during the day and drinks by night. Why not explore the full range of exhibitions at the Whitechapel Gallery.
Something you think we've missed? Wed love to see what you're up to this January. Make sure to use the hasthtag #IamNorthumbria to keep us in the loop and check out our instagram account.