I hope that this post will provide some advice and support if you are going through a mental health problem whilst studying. There is no shame in seeking any help you feel you may need, nor should you feel your thoughts aren't as relevant as the next person's. In the student world, the statistic of 1 in 4 going through a mental health problem is no less relevant, and there are certainly added pressures such as making new friends and the course itself, though I ensure that you are not alone. If this is something you are worried about, please consider these options as a student.
Let somebody know what you're going through
It will be difficult to accept that things aren't going as well as you'd hoped, but letting those feelings go on will only continue to add to the pressure. As hard as it may feel at the time, acknowledging that you are feeling low or feeling that something isn't right will help you feel ready to speak up. There is no judgement in whatever you are going through. I have found the support at Northumbria to be brilliant; a Guidance Tutor (an academic relevant to your programme of study) who supports you may be someone you build a relationship with, and as such feel more comfortable with. Guidance Tutors are not only there to support you academically, but will listen to you and refer you to specialist services within the University where appropriate.
There are a number of support services at Northumbria, including Counselling and Mental Health Support Services. Remember that there is no shame in using them and that your feelings are just as valid as anyone else's. There are also Manage your Mind workshops run by the University, on issues such as social confidence and relaxation.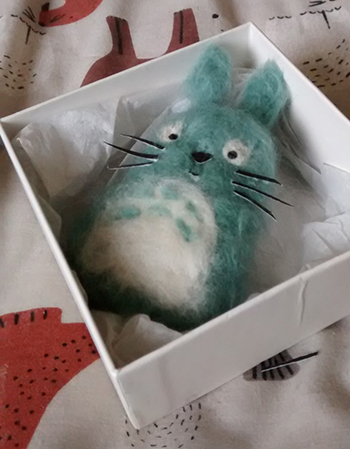 Focus on yourself and doing something that you love
Focus on doing something you enjoy whilst studying, it is very important to take breaks. Personally, I plan my week depending on assignments. Daily, I will work for a couple of hours and then take myself off for a cup of tea (I sometimes bring in a flask... and maybe source some cake too), and repeat the process, making sure I take a good fifteen minute break every few hours, if not every hour. It helps to clear your mind.
I will work from morning until around 7pm at the latest, depending on lectures, and then shut off my studies completely and focus on one of my passions; crafting. I recently made a felted Totoro (pictured). I am definitely a morning person and realise this will not suit everyone, likewise nor will crafting. I am just trying to emphasise how important it is to figure out what works for you and to switch off from studies. Take time out for yourself and your mental health.
Northumbria has a wide variety of societies, something which you may find suits one of your passions. I would also like to highlight the Mental Health Awareness Society, who focus on ensuring people understand mental health and aim to remove any stigma attached. This year alone, they have run events on depression, eating disorders and a craft and de-stress art exhibition project, as well as providing a safe space to discuss your experience with mental health, alongside others who may be going through or have gone through something similar. They have also run social events to comedy clubs and much more. The society will welcome you whatever your experience and are absolutely brilliant in what they provide. As the current committee members are graduating this year, the society is currently looking for new committee members - if you are interested in helping the society to continue in the fantastic work they're doing, please get in touch via their Facebook page.
Empathy
For anyone who may be unsure of how to support a friend or family member with a mental health issue, please watch The Power Of Empathy.
The Samaritans can be contacted on 116 123.
You can contact Mind here, call 0300 123 3393 or text 86463.